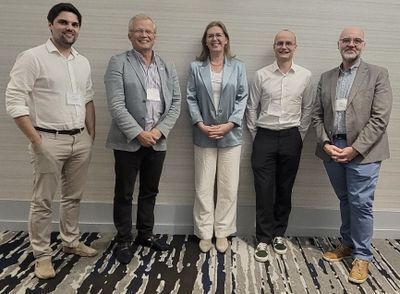 I am so pleased to be able to share my impressions of my recent journey to Dallas, Texas in the US, where I had the incredible opportunity to moderate the Patient Voice Sessions at the recently held International Scientific Conference on Complex Lymphatic Anomalies (CLAs).
I did this as a person living with a CLA, an advocate for others and their families in in complex and challenging situations, but also on behalf of LGD Alliance Europe, to show our support for the LGDA and the LMI and the aims of the International Scientific Conference which they had so beautifully organised. This experience was a true privilege, allowing me to introduce each of the video presentations that a few of you had kindly agreed to do – raising your voices in the scientific world on which we are all so dependant. Thanks again to those who took part.
The event, hosted by the LGDA and the LMI, brought together a diverse array of people from far and wide to stimulate the needed research into our rare conditions. It is sometimes very difficult to cope with a rare disease, but I was greatly encouraged observing and listening to the clinicians, scientists and researchers talk about the challenges of the diagnostic and treatment journeys. The discussions were both insightful and impactful, though often way beyond my understanding, but underscoring the importance of collaboration and shared knowledge in advancing patient-centred care. They knew what they were talking about, and they were encouraging each other.
Being a part of this international gathering provided a unique platform to shed light on the unique challenges and triumphs faced by individuals living with CLAs in Europe. It was heartening to witness the genuine interest and commitment of those attending. One of the highlights of the event for me was to personally meet some of the delegates from Europe and others who I have met online over the past year or two. Special treat was having lunch and conversing with the one and only Jack Kelly!
Flying back home after the conference I was very tired but very satisfied that our collective efforts do seem to be having an impact. My thanks for those who extended the hand of friendship and explained some things to me!
I am deeply grateful for the opportunity to representative LGD Alliance Europe in Dallas. Together, we continue to amplify the voices of people living with CLAs, working towards a clearer and more hopeful future for all of us - and the ones we love.
David Williams
LGD Alliance Europe
Chair of General Board and interim Director