IRS 990 Form
---
Annual Reports
---
Strategic Plan
About LGDA
Since 2007, LGDA has been a champion for patients with rare Complex Lymphatic Anomalies (CLA). The founder of LGDA, Jana Sheets, was herself a patient, and believed bringing patients together for connection, resources, and support was the most important priority for the organization. Today, we are the premier organization for CLA in the world and the only organization with a holistic focus on supporting the CLA community.
LGDA is at a crucial moment to take stock and chart an intentional and strategic path forward to greater successes and better support for our patient community.
Vision
Patients with complex lymphatic anomalies live longer, healthier lives.
Mission
We connect patients and families to peers and networks of care, partner to advance new research, and educate the medical community to help all people navigating complex lymphatic anomalies have hope for a healthier tomorrow
Plan
In order to bring our mission to life and make progress towards our vision in the next three years, we will focus on the following priorities: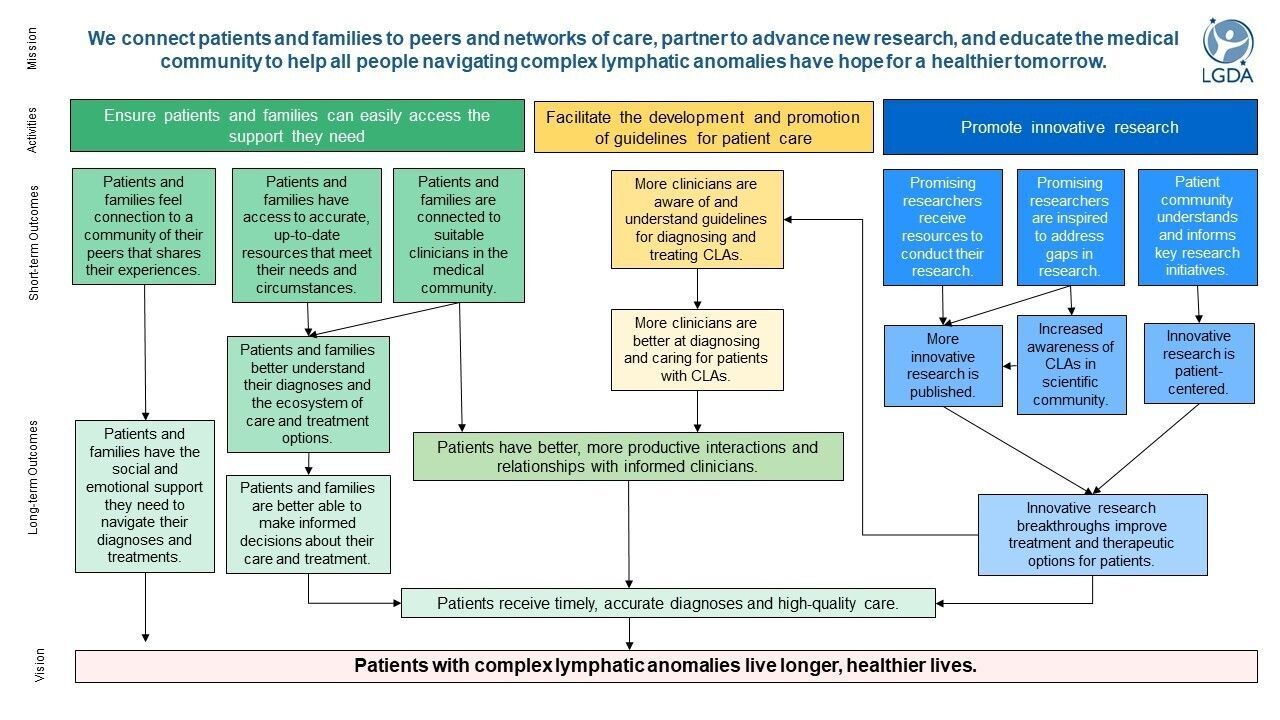 Impact
Improved physical and mental health of patients with CLAs and their families
Better awareness of CLAs in medical and scientific communities
Community access to high quality educational materials, support services and treatment guidelines. 
Value Proposition
LGDA is the only organization for CLA in the world capable of advancing a global agenda to improve the physical and mental wellbeing of the CLA community. 
Keys to Success
We will only be successful with the involvement of our patient, scientific and medical communities, and the support and our valued donors and global partners, including the Lymphatic Malformation Institute (LMI) and LGDA Europe. These individuals and organizations share our vision for a healthier future for patients with CLA and recognize that our individual successes are tied to how well we can move forward as a global movement in support of CLA patients and their families.
Summary
Our first ever strategic plan demonstrates a renewed commitment to Jana's initial vision of providing our patient community with connection, resources, and support. LGDA will continue to center the voices and experiences of our CLA patients and families to give them hope for the future.  We will always remember that people and families are at the heart of why we exist and why we strive for a healthier tomorrow.