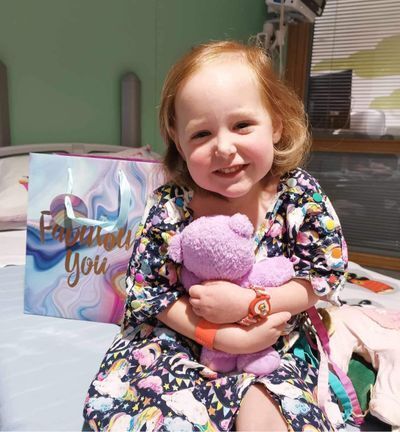 Hi, my name is Becca, and I'm a parent from Southeast England. My daughter, Libby, is three years old, and I want to share our journey with her rare disease, KLA (Kaposiform Lymphangiomatosis). It all began in June 2021 when Libby was just 14 months old.
Libby's symptoms started with a persistent cough that worsened over time. As concerned parents, we visited our GP, who initially attributed it to asthma. However, when Libby's condition deteriorated, marked by breathlessness and unsettling grunting noises, we knew something more profound was at play.
On June 14, 2021, our instincts led us to our local A&E, where Libby was diagnosed with pneumonia. Within 24 hours, the severity of her condition prompted an urgent transfer to the Evelina Children's Hospital in London. Little did we know that this would be the beginning of a tumultuous journey.
Complications arose, and Libby suffered a cardiac arrest, leading to her placement on ECMO life support for six critical days. A stroke further complicated matters. The medical team, unfamiliar with KLA, consulted specialists in the United States for guidance.
The journey at Evelina involved draining 2 1/2 liters of lymphatic fluid from Libby's body, revealing the severity of the internal drowning she had experienced. Initially diagnosed with GLA, subsequent genetic testing confirmed KLA.
Libby's medical team, recognizing their limited expertise, transferred her to Great Ormond Street Hospital, where a dedicated hematology team well-versed in complex lymphatic anomalies took charge of her care.
Our introduction to genetic testing happened swiftly at Evelina. Amidst the chaos of surgeries and life-saving interventions, Libby's tissue was collected for testing. The urgency was palpable as her life hung in the balance, and a precise diagnosis was imperative for tailored treatment.
Libby's genetic mutation, NRAS, guided her treatment journey. Sirolimus initially showed promise in controlling her condition, but the turning point came when trametinib, a more specific targeted therapy for NRAS, became available in April.
As a parent navigating uncharted waters, the significance of genetic testing became clear. It not only confirmed the diagnosis but paved the way for targeted therapies like trametinib. Libby's response to treatment has been encouraging, with upcoming scans offering insights into the progress of her KLA.
While our story remains incomplete, and the future uncertain, hope radiates through Libby's resilience. Genetic testing, though daunting, proved indispensable in guiding her treatment and offering a lifeline. To fellow parents facing similar challenges, I encourage seeking genetic testing, connecting with experts, and exploring available resources, such as the LGDA (Lymphangiomatosis & Gorham's Disease Alliance).
Libby's journey underscores the importance of collaboration between parents, medical professionals, and support networks. Together, we forge a path toward brighter futures, driven by hope, research, and the unwavering strength of our children.
Read more patient stories here https://lgdalliance.org/patients-caregivers/stories.html